Product was successfully added to your shopping cart.
Details
Includes clear lens and microfiber case
The Barstow fuses vintage moto design with modern styling and technology resulting in a timeless look with next level motocross performance.


FEATURES:
1 – Frame
Minimal frame design works in union with distinct lens shape to increase visibility.

2 – Strap
Premium strap trim elevates performance and adds rich detail.

3 – Foam
Triple-layer face foam provides excellent moisture management.

4 – Lens
Anti-fog Lexan lens with integrated pins for seamless tear off application.

5 – Vents
Upper vents force air in and channel out moisture to reduce fogging.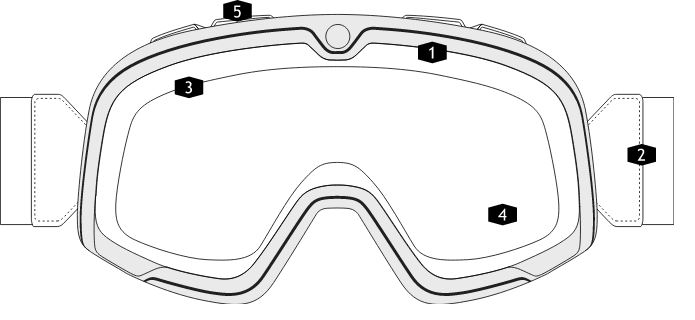 IN THE BOX:
Microfiber bag

Video:
The 100% brand has always been synonymous with motocross Americana and has been linked to many iconic moments that have built the roots and history of what is modern motocross. The roots of the 100% brand date back to the early 1980's when the popular logo graced the factory racing equipment of the biggest names in motocross. Thirty years later the passion for the spirit of racing remains. Today, 100% is about to inspire a whole new generation of racers and ask them the original tag line, "How much effort do you give?"